A Hint of Optimism, 2017.
a window installation at 2441 Mission St. San Francisco, CA
The forecast this year is stormy. Nearly everyday I am struck by the high winds and drenched by the downpour whose destructive path cannot be ignored. Even when I try. Then as if huddled around a conspiratorial campfire or a familiar fireplace I find warmth with you. You are the love that cannot be dampened by the storm, you are the march that fills my heart, you are the one I would not have known had the winds forced me inside. The crackle is the shift in me. At times you are the resistance, at times the escape. In my passion, I find both. I shall attend to the fire so as it not die out and leave us to the darkness.
Photos by Morgan Wirz.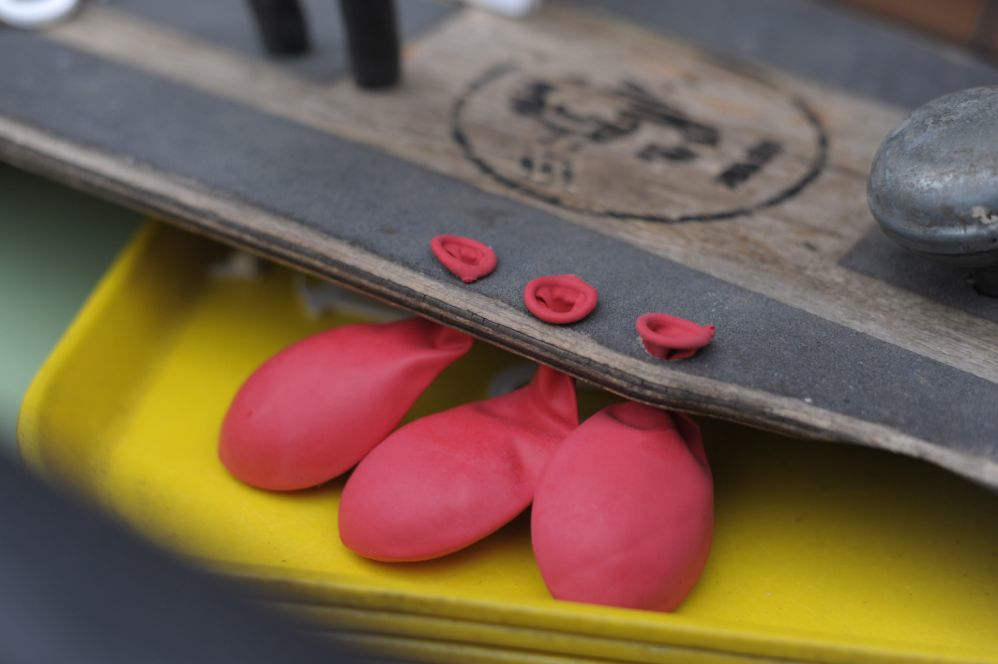 Art Motor was an installation retrofitted to the trunk of a borrowed Honda. This found object art installation existed for approximately 72 hours and was open for viewing at the Parking Lot Art Fair in San Francisco.
Art Motor is a reimagination of the mechanics beneath the hood of a car. The installation investigates the components that fuel our artmaking and equates the mystery of all the hoses and knobs under the hood of a car with the inner workings of the creative mind. Geng, whose knowledge of automechanics doesn't extend beyond the windshield washer fluid reservoir and the oil dipstick, presents Watchamacallit as a playful and perhaps curious apparatus of art. Ultimately, this project is about the creativity in every person, that intricate, delicate process by which we all figure out how to live.
Photos by Astra J. Brinkman.
If I Had a Bathroom, 2016.
As part of the Parking Lot Art Fair 2016, I created an installation in the Fort Mason parking lot in San Francisco. The installation, entitled If I had a Bathroom, was created in a 16 ft rented box truck and existed in its full form for a total of 8 hours.
Many people asked why I created a bathroom on a truck. For those who share in this curiosity...the past 4.5 years I've been living as a guest in a steadily rotating queue of stranger's homes. I care for their pets while they are away and practice making myself at home in theirs without a trace. Bathrooms have struck me as a particularly intimate, private space within a house, often revealing. This installation gave me the opportunity to create my own intimate environment and invite strangers and friends alike inside, a role reversal of sorts.
I invited guest performance artist, Katrina Goldsaito to act as resident unperformer of the bathroom, strumming her guitar and singing with her sweet and soothing voice when the mood struck.
Photos by Schmoo Theune.